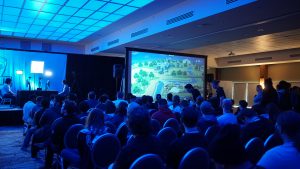 The mission of the Council for Adult and Experiential Learning (CAEL) is to help adult learners succeed in all aspects of higher education. With their annual conference being moved to a virtual-only format, the 2020 presenters will be focusing on strategies for online instructional design and ways to keep students motivated when learning from afar. As a sneak peek of what is to come, CAEL Director of Event Operations Elizabeth Warner asked a few questions to conference presenters and shared the short interviews in "Behind the Scenes with Five Experts Presenting at CAEL 2020." This is what they had to say about the conference, the pandemic, online learning, and where higher education might go from here.
Attending a Virtual Conference
Utilizing the technology in the same way we ask students to participate is one benefit of attending virtual conferences this season. Additionally, with the barrier of travel reduced for attendees, it may be easier than ever to network and chat with colleagues who share your interests. Being able to plan ahead for the conference may allow for fewer environmental distractions, a greater focus on the sessions, and enhanced organization for participants who attend in groups and want to maximize their experience. Despite the format, attendees can expect to learn new information in order to grow their pedagogy, build relationships with others in the field, and converse with others about authentic best practices.
Changes in Adult Learners
Adults in school are overwhelmed by balancing home, work, and class expectations in addition to dealing with the pandemic itself and other social justice issues. There is an urgency for many to continue to pursue their degree but they require more support and care from instructors.
Higher Education Transitions to Online Learning
Colleges and universities have recognized the need to provide students with guidance in addition to making sure everyone has technology. Now is the time to be kind and meet students where they are in order to grow their learning while they balance home and school lives. Further, institutions are finding that smaller chunks of time on a screen are benefitting students during online instruction as well as choosing technology meaningfully.
The Future of Higher Education
Higher education institutions may never look the same after the pandemic as the health crisis brought to light a need for transformed learning and experiences, new ways of assessing students, and a need for greater problem-solving skills over basic content knowledge.
---
If you're interested in learning more about CAEL or their 2020 virtual conference, please check out their website at https://conference.cael.org/schedule/. You might just spot a MALDT faculty member or two during the sessions.