For many students exploring educational technology at the masters or doctoral level, getting started on the process of academic research can be intimidating. Even for those of us who have been studying for years (or decades), we sometimes don't quite know where to turn to find reputable, timely research on ed tech. To that end, here are a few trusted ways to get started.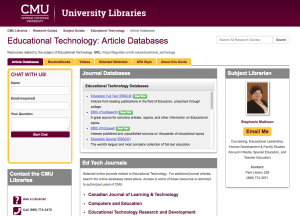 First, our CMU research librarian Stephanie Mathson has created a useful portal with her Ed Tech Library Guide. She has provided tabs for searching academic databases, books and e-books, videos, and specific ed tech-related websites. Also, there you will find a link to CMU Library's instructions for setting up a connection to Google Scholar. Of course, she is also available to consult with students on individual questions, and she can be reached at <maths1sm@cmich.edu>.
Second, even after drilling into the library database, it can still be confusing to figure out which journals are of the highest quality. While journal rank and impact factor can be one important factor in determining the quality of a journal, there is much debate about the importance of impact factors, and I encourage you to search through a wide variety of journals, both subscription and open access. One resource that I find particularly useful is EdTech Journals. This website was created by two faculty members from Boise State University's Department of Educational Technology and has lists of both subscription-based and open access journals which you can sort with various filters including the journal rank and availability.
They currently list over 250 journals on the site, and you can quickly determine whether or not the journal you want to access is a subscription-based journal and, if you are so inclined, its impact factor. And, of course, there is a direct link to the journal homepage for easy access. Some of the most useful journals that you will see listed here are ones that we have access to through CMU, including:
Third, two of the primary professional organizations related to ed tech are the International Society for Technology in Education (ISTE) and the Association for the Advancement of Computing in Education (AACE). Of their journals, we have CMU access to back issues of some ISTE publications (Journal of Research on Technology in Education and Journal of Digital Learning in Teacher Education), though current issues are only accessible to ISTE members. AACE requires a subscription for its journals, too (which, unfortunately, CMU does not have membership to either). That said, it is certainly worth looking through their entries and seeing if you can contact individual researchers for their articles via Academia.edu or ResearchGate, or by using Documents on Demand.
Finally, in thinking about the most popular and useful ed tech journals, many of them are available freely with open access. These include:
In sum, the process of searching for high-quality resources related to ed tech — like any scholarly endeavor — takes time, patience, and practice. During the search, be sure to keep track of your sources using a bibliographic management tool, and always summarize and critique the sources you are examining so, in turn, you can think about how they best fit in with the arguments that you aim to make in your own scholarship.
---
Photo by Fahrul Azmi on Unsplash

This work is licensed under a Creative Commons Attribution-NonCommercial-ShareAlike 4.0 International License.