e-Learning and m-Learning
e learning and mLearning both are based on online content delivery methods, virtual tools for learning is a common factor in both types of learning.
Online learning, also known as e-learning, is already popular and commonly used and accepted in most educational settings. Now m- learning which is a common term for mobile learning is the new, fast and upcoming era. Both m-learning and e- learning use the internet as their base. But to differentiate them is not very easy. Mobile learning has been used within both formal and informal learning. Research has shown that mobile learning "increases the possibilities of informal learning" (Kadirire, 2007). Computers ( desktops or laptops) are a common medium used for e-learning. Learners can participate in class, access their class material, finish their assignments, take quizzes, engage in virtual asynchronous or synchronous discussion, all online.
Mobile learning is a step ahead of e-learning. Learners may use any mobile device to participate in class and learning process. Smartphones, iPads and tablets are popular mobile devices that are used for m-learning. Because of their user-friendly apps these devices are easy to navigate for young learners too. Learners can engage in class discussion, audio / video meetings, read / listen to books on these mobile devices. There are tons of apps specially designed for age appropriate educational purposes which can be used on these mobile devices.
As these mobile devices are smaller in size, mobility in mlearning is a big positive side as compared with eLearning. Although mobile learning and online learning both are based on the internet and technology, mobile learning takes place on a smaller screen than e-learning devices. This can strain learners' eyes to read longer class documents or to watch longer videos. Educators may want to deliver it in smaller chunks.
HTML 5 and CSS are popular technologies used for e-Learning. Platforms like Learning management systems (LMS) are used for consistent content delivery. Frameworks like Content management systems (CMS) are used to store the content. Along with these few technologies Mobile Learner Management System (mLMS) is a rising technology which makes m-Learning more adaptable on a variety of mobile devices.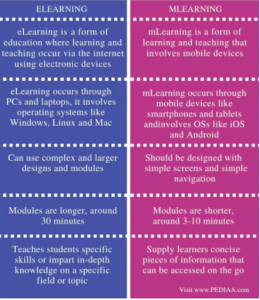 Figure 1 
Ref :- https://pediaa.com/what-is-the-difference-between-elearning-and-mlearning/
eLearning uses desktop and laptop computers typically with Windows, Mac or Linux as its operating system. Mobile devices that are used for mLearning use operating systems such as  iOS, Android. eLearning takes place on larger screens and can have detailed and lengthy course modules, mLearning takes place on smaller screens and it is expected to have simple navigation and smaller chunks of contents and videos. It allows eLearning to provide in depth subject knowledge while mLearning focuses on concise pieces of course content.
In brief, laptops and desktops with bigger screens are used for eLearning, while mobile devices like smartphones are used for mLearning. The platforms should follow the standardized rules to keep the same flow in learning. mLearning duration is shorter compared to eLearning. Both eLearning and mLearning have their own advantages and some disadvantages.
References
Kadirire, J., (2007). Instant Messaging for Creating Interactive and Collaborative m-Learning Environments. International Review of Research in Open and Distance Learning, 2(8).