Hypothesis.is
Hypothesis.is  is an open source software for web annotation, which allows groups to collaborate and discuss in private groups or leave comments on public groups.  It is a great tool for annotation which can be used in several sectors such as Research, Education, Journalism etc. To use this tool, you can create a free account using your email address and download chrome extension. Once you download you can start discussion and comment on the online website or any document.

 If you do not want to share your thoughts, but take notes you can still achieve your goal by creating a private group for yourself for future reference. But I think it is more commonly used as public annotation.
In the educational area hypothesis.is enables students to actively participate in online learning. For the class assignments, teachers can post the question; while reading the document students can annotate and/or post comments, take notes.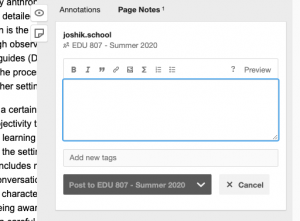 It allows students to read and reply to their classmates, teachers and stay connected as a group; they can engage in synchronous discussion, as well as by leaving comments they can build an asynchronous discussion group. Educational institutes can integrate Hypothesis.is with their learning Management Systems such as Blackboard, Canvas, Schoology etc. 
It allows users to annotate as well as highlight text. Once you select the text to be annotated, it opens a text box on the right side. It comes with text formatting options. You can add the web links to your notes. To keep your post and notes more organized and easy to find for future reference, Hypothesis.is gives a tag option.

It is a good tool, but I think it is more commonly used as public annotation.