Every year since 1981, March is celebrated as Women's History Month in the honor of women who play vital roles in American history and life.
In 1981, Congress passed Pub. L. 97-28 which authorized and requested the President to proclaim the week beginning March 7, 1982 as "Women's History Week." Throughout the next five years, Congress continued to pass joint resolutions designating a week in March as "Women's History Week." In 1987 after being petitioned by the National Women's History Project, Congress passed Pub. L. 100-9 which designated the month of March 1987 as "Women's History Month." Between 1988 and 1994, Congress passed additional resolutions requesting and authorizing the President to proclaim March of each year as Women's History Month. Since 1995, presidents have issued a series of annual proclamations designating the month of March as "Women's History Month." These proclamations celebrate the contributions women have made to the United States and recognize the specific achievements women have made over the course of American history in a variety of fields. You can learn more about the origin of Women's History Month from the Library of Congress.
Each year, Women's History Month celebrations are centered on a specific theme.  The 2021 theme is: "Valiant Women of the Vote: Refusing to be Silenced." The theme reflects the events of both 2020 and 2021. The year 2020 was significant because it marked the 100th anniversary of the 19th Amendment, the Amendment that secured, after a hard and relentless struggle involving a number of courageous women throughout U.S. history, voting rights for all American women. And later in 2020, we elected, for the first time in U. S. history, a female leader to one of the highest offices in the country! Kamala D. Harris, our first female Vice President, took office on January 20, 2021.
Har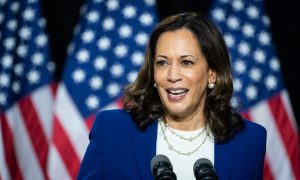 ris' election is meaningful also because as a child of immigrants and a woman of biracial – black and South Asian – background, she embodies the many struggles of individuals marginalized on more than one count. The story of her success will inspire many young women aspiring to overcome barriers, reach the top of their careers, and fulfill their dreams, no matter how long it takes and how hard the road to success is.
In becoming the first highest-ranking female official in U.S. history, Harris joins other high-ranking female leaders throughout the world and upholds their legacy. Some notable female leaders elected to the highest offices in their countries include:
Sirimavo Bandaranaike: Prime Minister, Sri Lanka ,1960-65, 70-77, and 94-2000
Indira Gandhi: Prime Minister, India, 1966-77 and 80-84
Golda Meir: Prime Minister, Israel, 1969-74
Isabel Martínez de Perón: President, Argentina, 1974-76
Elisabeth Domitien: Prime Minister, Central African Republic, 1975-76
Margaret Thatcher: Prime Minister, United Kingdom, 1979-90
Maria de Lourdes Pintasilgo: Prime Minister, Portugal, 1979-80
Dame Eugenia Charles: Prime Minister, Dominica, 1980-95
Gro Harlem Brundtland: Prime Minister, Norway, 1981, 86-89, and 90-96
Benazir Bhutto: Prime Minister, Pakistan, 1988-90 and 93-96
Khaleda Zia: Prime Minister, Bangladesh, 1991-96 and 2001-06
Chandrika Kumaratunga: President, Sri Lanka, 1994-2005
Sheikh Hasina: Prime Minister, Bangladesh, 1996-2001 and 2009-present
Janet Jagan: Prime Minister, New Zealand, 1997-99
Helen Clark: Prime Minister, New Zealand, 1999-2008
Gloria Macapagal Arroyo: President, Philippines, 2001-10
Megawati Sukarnoputri: President, Indonesia, 2001-04
Luísa Diogo: Prime Minister, Mozambique, 2004-10
Angela Merkel: Chancellor, Germany, 2005-present
Pratibha Patil: President, India, 2007-12
Cristina Fernández de Kirchner: President, Argentina, 2007-15
Theresa May: Prime Minister, United Kingdom, 2016 -19
Kersti Kaljulaid: President, Estonia, 2016 – present
Jecinda Arden: Prime Minister, New Zealand, 2017 – present
Katrín Jakobsdóttir: Prime Minister, Iceland, 2017 – present
While the tradition of a month-long celebration honoring American women began in the 1980s, there were earlier inroads to including women's history in the public conscience. Women's Equality Day, which commemorates the day that the 19th Amendment to the U.S. Constitution was ratified, began to be celebrated the early 1970s. The 19th Amendment recognizes the constitutional right of women to vote, and 2020 marked its 100th anniversary. Students and faculty at CMU continue to share their research about the suffrage movement. Dr. Hope Elizabeth May, Professor of Philosophy and Director of The Center for International Ethics, as part of the podcast she creates with current CMU students and alumni called "The Virtues of Peace". She recently devoted two episodes to an important but little known story connected to 19th Amendment. The Portrait Monument to Lucretia Mott, Susan B. Anthony and Elizabeth Cady Stanton is a marble statue that was sculpted by Adelaide Johnson to memorialize three pioneering leaders of the Suffrage Movement to mark the passage of the 19th amendment. One hundred years ago, it was unveiled in the rotunda of the U.S. Capitol in Washington D.C. on February 15, 1921, the 101st birthday of Susan B. Anthony. For her podcast episodes, Dr. May was joined by Sandra Weber, the author of The Woman Suffrage Statue: A History of Adelaide Johnson's Portrait Monument at the United States Capitol. The history and relevance of the monument was discussed, as was Weber's archival research during her time as a fellow of the Capitol Historical Society. To gain insights into the monument, the historic Suffrage movement, and the 19th Amendment, check out Dr. May's conversation with Weber.
A poem written by Edna St. Vincent Millay was read in 1923 at an event at the Woman Suffrage Statue. You can listen to Dr. May's recording of the lyrics.
Featured Resource:
Weber, Sandra.  The Woman Suffrage Statue: A History of Adelaide Johnson's Portrait
Monument at the United States Capitol.  MacFarland & Company, 2016.
(Park Library, Book Collection 4th Floor, NB237.J53 W43 2016)