On December 16, 2020, former Central Michigan University President Bill Boyd passed away after a short battle with COVID-19. In addition to the obituaries and remembrances from CMU and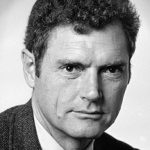 the Racine Journal Times (a remembrance entitled, "A gentleman's gentleman"), the "Wright in Racine" blog posted a remembrance. It turns out that Bill Boyd, who was born in Mt. Pleasant, South Carolina, eventually landed in Mt. Pleasant, Wisconsin. There, he served as president of the Johnson Foundation and, through marriage, became the inhabitant of a custom-designed Frank Lloyd Wright house called the Keland House.
Read about and view photos of the iconic piece of American architecture on the Wright in Racine's tribute to Bill Boyd, the well-respected steward of Keland House.
Find more information about and photos of Keland House in the 2016 tribute to Karen Johnson Boyd from the Wright in Racine blog.