We're launching Central Michigan University's new website in about one month, and we want to be sure you have all the information you need about the new cmich.edu. Read on to learn more about the website's:
Focus on prospective students and enrollment.
More user friendly and mobile friendly design.
Clean, modern look.
Emphasis on the "We do" brand.
In this post, you'll also learn about support for current students, faculty and staff, and the companion FAQ page, which houses answers to questions you may have about the new site.
Focus on prospective students and enrollment
The new cmich.edu is part of our overall strategy to attract, admit and enroll new students.
Our website is the single largest — and most central — piece of our marketing and communications toolkit. It also is the main source of information for prospective students: Now more than ever before, students find information and make decisions about colleges and universities without ever setting foot on campus.
To boost enrollment, the new website must be a window into our university. It will clearly showcase what makes CMU unique and exciting, distinguishing us from our peers and competitors. Our new website is designed specifically with future students in mind: They can more easily explore academic programs, learn about our university community and connect with the information they need to make the decision to apply and enroll at Central Michigan University.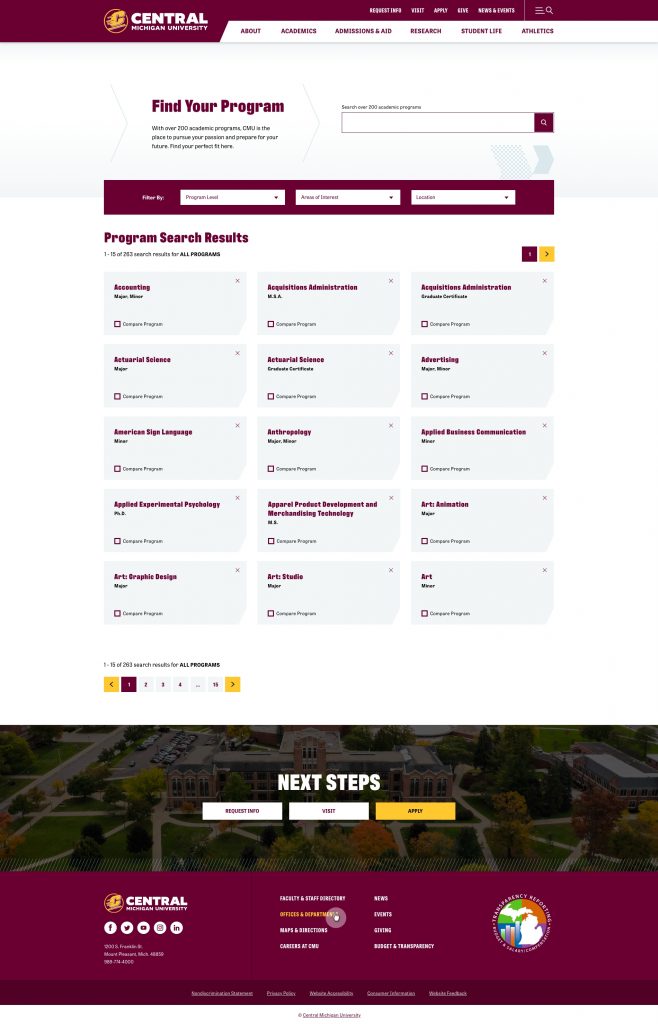 Please note: These images represent a mock-up of sample pages. Actual site designs may change prior to site launch.
Thanks to enhanced features on the new website, we will be able to more closely follow the prospective student's digital CMU journey, from their first interaction with our website to the pages they explore and the questions they encounter along the way. This allows us to provide them with more personalized communications throughout the admissions process, which will improve the likelihood they choose to enroll at CMU.
More user friendly and mobile friendly
Our new site incorporates best practices for usability and accessibility, ensuring a seamless start-to-finish experience for prospective students, parents and supporters.
Think about the ways we look for information on search engines like Google and the ways we explore a site we're visiting for the first time. We want it to be easy to explore — we want engaging images, simple headings, clear action steps and, most importantly, intuitive search functions. The new cmich.edu site was designed with that in mind and provides everything users expect to locate the information they need, quickly and easily.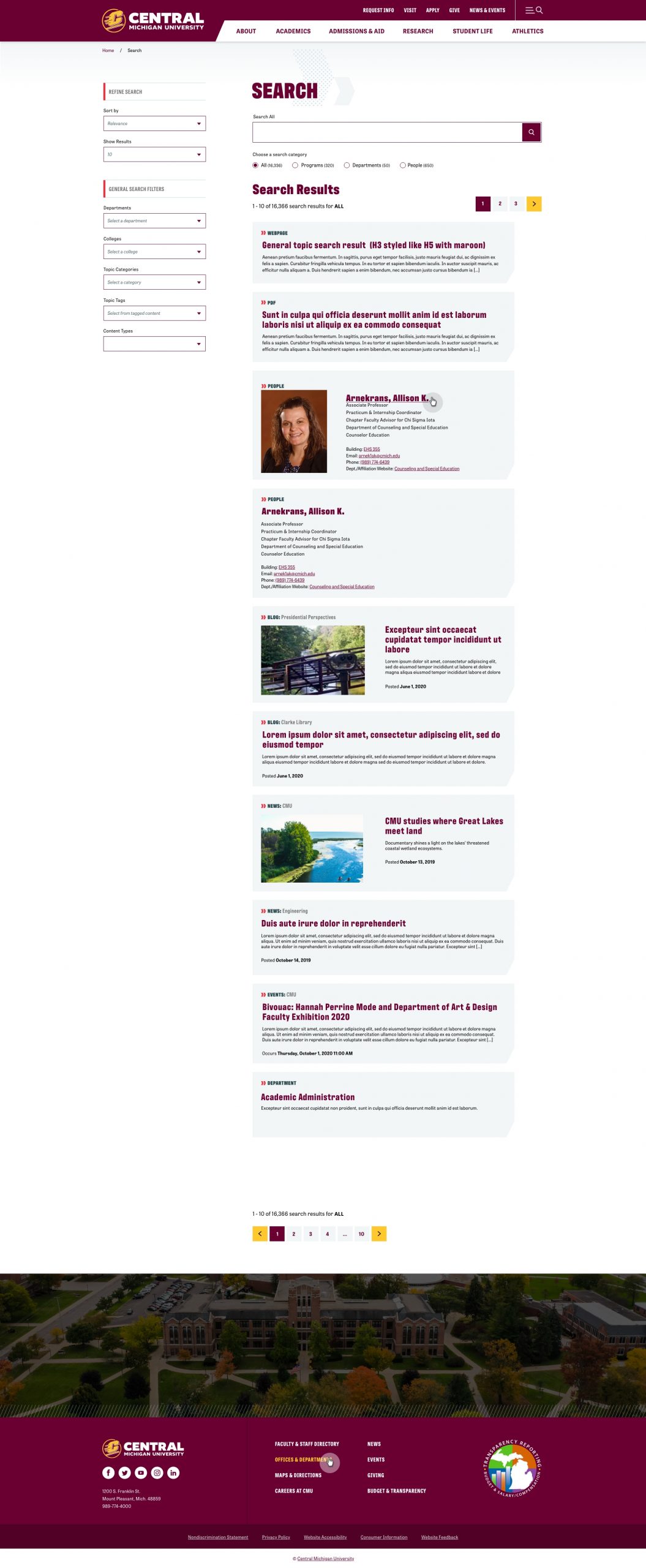 Our future students do most of their research about colleges and universities from their favorite mobile device. The new cmich.edu will look better, and be easier to use, on cellphones, tablets and other mobile devices. It also will provide a better experience for users on laptop and desktop devices.
Clean, modern look
We've decluttered the look and feel of our website. The new cmich.edu will feature high-impact photos and videos and rely less on text, providing an experience that is more visual and engaging for our audience. Every page of the new site is designed to provide future students with the experience and information they seek.

In addition, we've removed content irrelevant to the prospective student's digital journey. This cleaner, more streamlined site ensures future students will be able to easily find information pertinent to their search.
Emphasis on the "We do" brand
Our new website will highlight CMU's brand promise: You will learn to lead in life. Program pages will feature student and faculty stories, photos and videos that showcase the active hands-on learning opportunities we offer. Prospective students will learn about career outcomes for their academic programs of interest and, where possible, read about the real-world successes of alumni working in those fields. Each page is designed to provide a high-impact, engaging experience for prospective students and their supporters.
What about current students, faculty and staff?
The new cmich.edu website is designed to cater to the needs of prospective students and to drive enrollment. Current students, faculty and staff will still have access to everything they need, such as Blackboard, TimeClock and other apps, through www.archive.cmich.edu.
A new intranet specifically for existing students, faculty and staff will launch in 2022.
New site FAQ
You've got questions, we've got answers. Visit the FAQ page for more information about what to expect on the new website. The FAQ page will be updated frequently, so please check back often.
Tune in for next week's blog:
What to expect: Using the new site, finding the old site.