Claude Monet 
1840 -1926
Founder of French Impressionist painting 
Most are familiar with artist Claude Monet's paintings of waterlilies, yet his subject matter was quite diverse. Here is a selection of his works with which you may not be familiar:
This is rather fun – Google Earth provides current images of locations Monet painted more than a century ago:
and if you wish more Monet…
Enjoy.
The Bo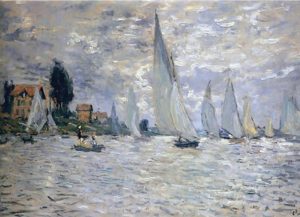 ats: Regatta At Argenteuil by Claude Oscar Monet | Oil Painting | claudemonetgallery.org
Learn more about The Boats: Regatta At Argenteuil Claude Oscar Monet – oil artwork, painted by one of the most celebrated masters in the history of art.