Visitors often mention how lucky we are to work in such a beautiful building. I agree.
The entire CMU community reaps the rewards of the careful planning and design that went into the Park Library. Materials such as ceramic tile, travertine marble, glass, and natural maple have stood the test of time during the past 20 years since the remodeled facility opened.
While our sunlight-filled atrium and panoramic views of campus will probably remain unchanged, the spaces within the Park Library are continually evolving to serve the ever-changing needs of the CMU community.
A favorite space that was enhanced this year is the Baber Room. This venue is commonly used for elegant events, poetry readings, art receptions, or students simply seeking a quiet retreat. It is a beautiful environment. A 40' wall of windows connects the room to every person who passes through the Library's central corridor. Whatever is staged in the room has tremendous exposure. A primary function of the Baber Room is as an art gallery. The art serves as a backdrop for every event, which is one of the reasons it is such a popular venue. From both aesthetic and conservation perspectives, a key aspect of art exhibition is proper lighting.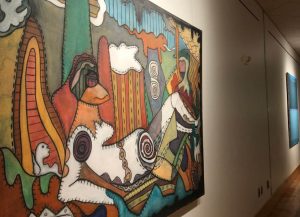 Upgrading the lighting has been considered for quite a while. Lighting technology has advanced greatly since the Baber Room was built, and the existing light fixtures were simply dying of old age. This year the lighting upgrade came to fruition.
Our primary goals were to exhibit and conserve art in the best light possible using energy-efficient technology that provides versatility. Lighting designers determined existing controls and ambient lighting did not need to be changed and only art lighting was upgraded.
New low voltage ceiling tracks were installed at locations to enable optimum lighting angles of every wall surface in the room. The tracks were equipped with efficient, cool, LED lighting instruments, which provide a variety of flood and spot patterns and eliminate damaging UV light emissions. This upgrade addresses CMU's commitment to sustainable practices as the LED technology increases efficiency by consuming less energy and increasing the bulbs' lifespan. This reduces the frequency of replacing and disposing of lamps. All factors result in lower costs.
From a curatorial perspective, the fixtures are easy to handle, as they are cool and well-designed. And most importantly, the quality of the light is excellent, enabling us to present the art respectfully, as the artists intended.
Most people probably will not notice the new lighting. It is not obvious like new walls or furniture but reinforces the Libraries' commitment to sustainability measures and the importance of arts and culture in the life of the University.
Please enjoy the art!