This is not another story about how computers and digital technologies are changing libraries. Rather, here you will read about some of the analog materials and equipment in our collections. While many of our patrons may have never used them, they nonetheless contain valuable and useful information.
Next to the Checkout Desk on the second floor, you will find shelves of VHS tapes and DVDs in our Multicultural Media Collection. Nearby are study carrels with VCR/DVD combination players. The Libraries still own films on VHS because those titles are simply not available in other formats. Just as not every book has been made available electronically, not every film has been converted to digital format.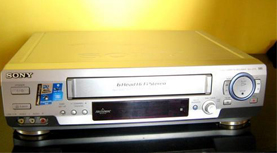 On the third floor of the University Library, you'll find cabinets of microfiche, microfilm, and microcards, which contain thousands of issues of newspapers, journals, and magazines. Although the Library has electronic access to some of those titles held in microforms, that is not the case for the majority of those collections. Where old microform viewers used to sit, you'll now find computers with oversized, vertically oriented monitors and scanners with glass plates and mini film spools that allow users to create PDFs of articles and images stored on fiche, film, and cards.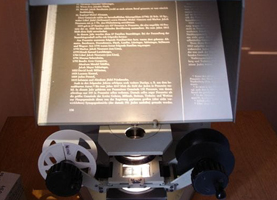 The University Library only recently withdrew the remaining few dozen record albums and cassette tapes in its collections. This was done partly due to changing curricula, but also because most patrons no longer have the means to play these formats for themselves and the Library doesn't have space to house the necessary equipment for use on site.
However, it is a different story in the Clarke Historical Library. There you will find vinyl records and both regular sized and microcassettes, as well as the devices on which to play them. In addition to record and cassette players, the Clarke also owns a reel-to-reel player through which patrons can listen to speeches and music recordings in the Clarke's collections.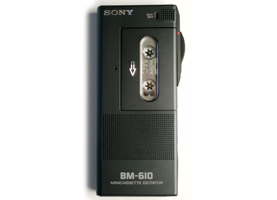 The Clarke also owns a Sony camera to play microcassette videos, which is the only option Marian Matyn, the archivist, has to view those items. A Sony digital editing unit is connected to a Mac and provides Marian with the only way to access material on unit-diverse videos from University Communications. Systems staff members assist Marian with converting the Mac files and uploading them to a server, so analog content can become digital for preservation and ease of access; however, this is a time consuming and tedious process because of breakdowns.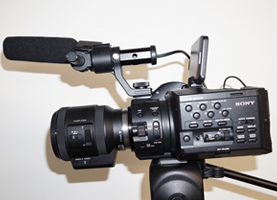 Because the Clarke also has microform items in its collections and nothing can be removed from the special collections library, you will find microfiche and microfilm readers there, too. In addition, the Clarke also owns a light table with which patrons and staff alike can view various types of slides and glass-plate negatives in the collections.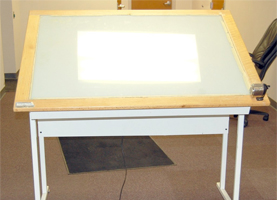 Staff members in the Clarke sometimes visit the University Archives at Michigan State University to use its Steenbeck flatbed film editing table to listen to films as the Clarke's projectors do not have sound and the Steenbeck does. The Clarke also has videotapes in both Beta and VHS formats, so it has a VCR and a Betamax in its collection.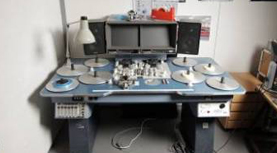 Another issue in the Clarke is with "machine-readable records" in inaccessible formats, which include floppy disks in various sizes and compressed discs. Few people on campus have the hardware to access those items now. Even when staff members have the hardware to access certain materials, they often can't because they lack the required propriety software and passwords to do so. Similarly, you may come across CD-ROMs in University Library's collections. While those discs are supplemental materials that accompany some of the books on our shelves, many computers today are sold without CD-ROM drives rendering those items useless for patrons who lack external CD drives.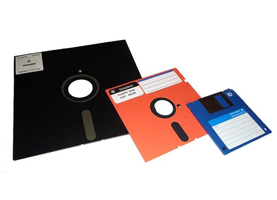 Preserving information found in increasingly archaic formats is far more important for archives and special collections than for regular libraries. As devices for using those formats break or become obsolete, staff members can have some materials reformatted for future use. However, that usually comes at considerable cost—if it can even be done at all. Archives generally retain the original items, too, because data can be lost every time an item is reformatted—and that requires storage space and supplies for preservation. Having the original items also provides authenticity for the collection even if the equipment to play or view the items in question is no longer available at a particular institution.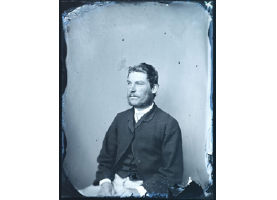 Even if you have never seen glass plate photo negatives, microfiche of periodicals, or computer floppy disks, you hopefully now have some understanding of the importance those items can have in a library's collection. The next time you visit the University Library or the Clarke Historical Library, take a look around for some of the equipment mentioned in this article. What you may see isn't just there to take up space.