Chippewa River Writing Project Summer Institute
As a site of the National Writing Project, the Chippewa River Writing Project adheres to a model of "teachers teaching teachers" and invites you to join us  summer institutes  that will engage you as a writer and teacher of writing.
I gained a network of colleagues and friends… a group in which I feel very comfortable and hope to share many years of writing, collaboration, and learning together.

Building and sharing with a network of colleagues, and learning new technologies and teaching strategies have inspired me to re-think my current situation and approach teaching from new perspectives.
Summer 2018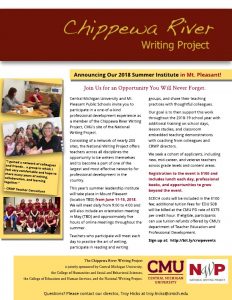 For 2018, K-12 and college educators are invited you to participate in a one-of-a-kind professional development experience . This summer's institute will take place from June 11-15, daily from 9:00 to 4:00 and will also include an orientation meeting in May (TBD) and approximately five hours of online meetings throughout the summer.
Teachers who participate in the Chippewa River Writing Project will meet in Mount Pleasant Public Schools each day and will receive up to 35 SCECHs or 3 graduate credits (EDU 508) for successful completion of the summer institute and additional course requirements.
Registration to the event is $100 and includes lunch each day, professional books, and opportunities to grow beyond the event. SCECH costs will be included in the $100 fee; additional tuition fees for EDU 508 will be billed at the CMU PD rate of $375 per credit hour. If eligible, participants can use tuition refunds offered by CMU's department of Teacher Education and Professional Development.

To apply for the invitational summer institute, please complete the online form. We love learning, and can't wait to grow with you!
Please contact our director, Troy Hicks, with questions that you might have about CRWP summer institute opportunities.
---
Previous Summer Institutes
---
Unless otherwise noted, this work is licensed under a Creative Commons Attribution-NonCommercial-ShareAlike 4.0 International License.