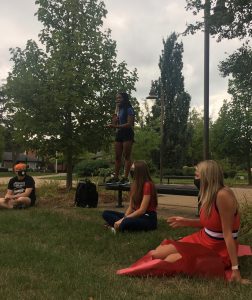 By: Mimi Gonzalez-Barillas Diversity Communications Specialist, OID
baril1rg@cmich.edu
________________________________________
Among the geologic specimens of iron, granite, conglomerate and pudding stones on campus, one rock stands in acknowledgement of the unifying nature of fraternities and sororities at CMU. "Multicultural Greek Rock" is located just off the Central Pedestrian Avenue, south of the Park Library. The plaque in front of the stone describes its intention of representing "constructive relationships" among the multicultural Greek organizations on campus.
The rock is maintained by the National Pan Hellenic Council (NPHC) – the parent organization of traditionally Black fraternities and sororities often referred to as "The Divine Nine." It was defaced this week when the words "cop killer" were spray painted under the #BLM hashtag. The attempt to associate the Black Lives Matter movement with this week's ambush and shooting of two police officers in Los Angeles is a strategic reframing of #BLM as a terrorist organization instead of addressing the systemic racism that brought us to this point.
CMU featured "How to Be an Anti-Racist" author Ibram Kendi through a virtual interview on September 2, 2020. The day before, a group of students organized on Preston Street on the UC side with signs including #BlueLivesMatter, Support the Police, and one featuring Turning Point USA printed on the bottom of a "Home of the Brave" sign. Counter protestors stood on the library side of Preston with Black Lives Matter and White Silence is White Violence signs. Cars drove by honking or vocalizing support or epithets for either side.
A college campus is the most fertile environment to seed one's thinking and awareness with novel experiences and opportunities to expand. The September 1st demonstration, and counter- demonstration, looked to be a standoff, or stalemate, with neither side hearing or listening to each other. Into this breech stepped up a natural leader, Troy sophomore Aubre Thomas.
Instead of a debate or extending the stare-down, Ms. Thomas invited both sides to sit in a circle on the grass outside Park Library and offered individuals the opportunity to share their name and why they were there. Neither side tried to convince the other of their position nor to break down the other side's position. They simply listened.
During a 1962 speaking engagement at Cornell College in Iowa, Reverend Dr. Martin Luther King, Jr. said, "I am convinced that men hate each other because they fear each other. They fear each other because they don't know each other, and they don't know each other because they don't communicate with each other, and they don't communicate with each other because they are separated from each other."
To break the heart of kinship that is the human family's salvation, is the undermining pulse of the effective "divide and conquer" strategy. Unity, is a direct threat to a system that functions based on our separation; the pathologizing of human difference. A step you can take today toward becoming truly anti-racist: Listening.