---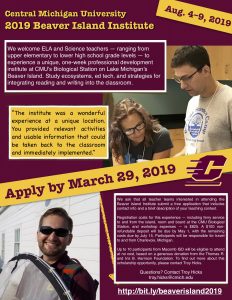 Experience a unique, one-week (August 4-9, 2019) field experience at CMU's Biological Station on Beaver Island of Lake Michigan.
Registration costs for this experience — including ferry service to and from the island, room and board at the CMU Biological Station, and workshop expenses — is $825. A $100 non-refundable deposit will be due by May 1, with the remaining costs due by July 15. Participants will be responsible for travel to and from Charlevoix, Michigan.
Need to ask for support from your administrator? Use our customizable letter!
Up to 10 participants from Macomb ISD will be eligible to attend at no cost, based on a generous donation from the Thomas R. and Iris B. Harrison Foundation. To find out more about this scholarship opportunity, please contact Dr. Hicks.
Working in pairs, this workshop is designed for science and ELA educators based in the same middle school. Teachers will study ecosystems, technology, and strategies for integrating reading, writing, critical thinking into the classroom. Participate in:
Individual and small group work
Field activities to promote discussion and collaboration
Science and literary activities
Collaborative, inquiry-based units identifying key standards from the Next Generation Science Standards, Common Core Literacy Standards, and ISTE NETS (technology) standards
Integrative teaching practices to integrate mobile technologies (smartphones and tablets, as well as apps) into teaching and as a learning tool for students
Preference will be given to educators in the following counties, though all ELA/Science teachers from upper elementary through early high school grades are welcome to apply: 
Arenac
Bay
Clare
Gladwin
Gratiot
Isabella
Macomb
Midland
Saginaw
Apply by completing this brief Google form. In addition to basic contact info and demographics, applicants will reply to the following in 500 words or less:
How you are currently thinking about and planning for the integration of science and literacy standards
When and how, specifically, you will plan to work together toward integration in the 2019-20 school year
How your participation in this institute will help you meet shared goals for the integration of science and literacy standards
Deadline: 5 p.m. Friday, March 29, 2019. Participants who are selected for the institute will be notified by mid-April. Graduate credit will be available at additional cost (pending approval).
---
Questions?
Troy Hicks, Ph.D.
Director, Chippewa River Writing Project
troy.hicks@cmich.edu