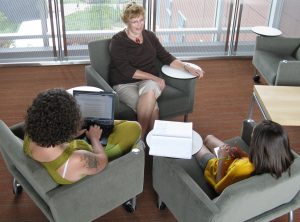 At a glance, it may seem like just another classroom at Central Michigan University.
A writer stands before an audience of half a dozen people, calmly walking her audience through a software that allows her to upload one of her poems onto her personal wiki.  She smiles as she presses a button, and a digitally created avatar reads off the lines of her writing in a sing-song voice.  The audience cannot help but smile, too.
What makes this classroom unique is that the writer explaining this software is ten years old.
This experience was one of many the young participants of the 2011 Chippewa River Writing Camp have carried away with them at the close of their time together.  For four days, twelve students, aged third to fifth grade, have met daily to laugh, play, and explore with one another just what it means to be a writer in a digital age.
Highlights of the camp included a campus-wide Writing Marathon that brought students from the football field, to a greenhouse, and even a live recording studio.  As they drew inspiration from a variety of settings, students were prompted to support each other through peer feedback and collaboration in a model of "kids teaching kids."
"There was never a time when they weren't teaching something," notes elementary-school teacher and CRWP team member Delia King.  "They were always collaborating."
Joined by fellow CRWP teacher team members Elizabeth Miller and Bridget Rise, King helped guide the young writers through a variety of digital writing tools, including Vokis, Kids' Blogs, Glogster, Wordle, and wikis.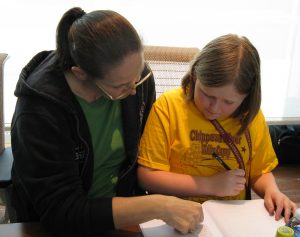 "Technology was a big part of the camp," explains Miller. "It's part of the writing process and opens it up to a wider audience of writers."
The writers' ability to immerse themselves in these new tools often surprised even their mentors.  "They adapted and caught on to the technology a lot quicker than we often do as adults," notes King with a smile.
The event ended on Thursday, June 23rd with a celebratory reading from the students' Writing Anthologies, but even as the camp drew to a close, not one of its participants was about to take a break from writing.
"I really, really like wikis and Wordles," shared one writer, "and I'm going to do them all summer."