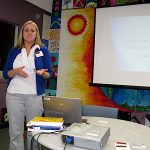 It was a time for looking back and looking forward as the Chippewa River Writing Project team met with friends both old and new for its 2010 Spring Showcase event on Wednesday, April 21st.  Members gathered at CMU's Anspach Hall for food, fun, and reflection, as well as the opportunity to welcome in our sixteen new teacher participants for the upcoming Summer Institute beginning this June.
Past SI graduates Deborah Meister, Ashley Patton, and Amanda Smoker highlighted the event with presentations on such diverse discussion topics as optimizing the peer editing experience and using fun, creative prompts to inject new life into student writing.
First, Smoker presented her project, "Teaching Revision: What Really Works?" In her middle school language arts classroom, she integrated peer revision, conferencing, and self-revision strategies to see how her students responded to each and revised their work.
Next, Meister presented her work with students to help them be more thorough and thoughtful when peer editing. Based on her experience, she found that three-person groups of students worked best to allow the two responders to offer specific feedback to the author in the group.
Finally, Patton presented "Letting Them Eat Cake: Applying a Child's Perspective of Engagement to Shape Instruction," highlighting writing activities that she had used with her own students in preparation for designing the Chippewa River Writing Camp for this summer.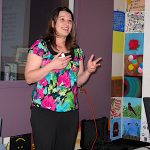 After introductions, team members and participants shared tips and stories from our past Summer Institute that inspired and enlivened us for the year to come.  The event closed with the CRWP leadership team meeting to plan for our upcoming SI orientation on May 10th, which will take place at our brand-new location in the Educational Services building at CMU.