Have you attended a HyFlex classroom this semester? Have you visited a campus building to get a meal, pay a bill, or pick up your textbooks? If so, you've probably seen the signs posted around campus about wearing a face covering and physical distancing. After a while, those signs might as well be wallpaper! We stop reading them and assume we know what they say. Ya-da, ya-da, ya-da, blah, blah, blah.
CMU's Fired Up for Fall website reminds us that on campus we must:
Stay at least 6 feet away from other people
Not gather in groups
Can you visualize 6 feet? CNN provided some great examples of what 6 feet looks like. Are you a dog person? Visualize two average Golden Retrievers standing head to toe. Do you have a three-person sofa? It's probably 6 feet from end to end. Most mattresses are about 6 feet from head to foot, and most doors on campus are more than 6 feet tall.
It's gratifying to see so many of you wearing masks. Keep up the good work! If you find wearing a mask uncomfortable for long periods, you may need to shorten the time you spend here.
When I talk to students about physical distancing in the Park Library, your reactions often include:
Sorry! We didn't know!
But we live together!
We're siblings.
We can't move the chairs?
We get it. It's weird for us too. After two decades of providing group study rooms and recently opening the Copeland Suite and 3 East, it's odd for us to tell you not to sit together. Learning is social! And yet, we're expected to physically distance inside all CMU buildings.
In most of the Park Library, plan to study alone. If you want to sit near a friend for mutual support, sit at separate tables that are side-by-side. Things to know when you sit at our standard tables and carrels:
Our standard library tables, the ones with the lamps, measure about 6 feet wide by 4 feet deep. Only one chair is available at each of these tables and only one person can safely sit at each table and remain at least 6 feet from the next person. Most tables are bolted to the floor because of the power running to lamps and outlets on the tabletops. But for obvious reasons, we cannot bolt the chairs to the floor and ask that you not move the chairs.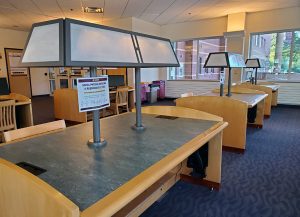 Library carrels vary in width and in the number of connected units. The personal work surface in the carrel pictured below is 33 inches wide, and the two units together are about 6 feet wide. Despite the walls between the four study surfaces, only one person can safely sit at these carrels and remain at least 6 feet from the next person. Again, we ask that you not move the chairs.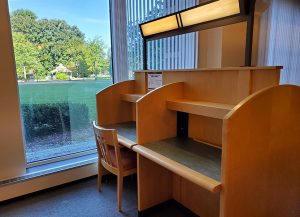 You can study in a group in selected areas of the Park Library as long as you are at least 6 feet apart.
In the Copeland Suite, there are several options for creating physically distanced group space for two to four people.
At the tall tables, two students could study together if one student sits by the pillar and the other sits at the end of the perpendicular table.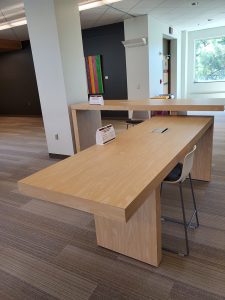 In the pod on the far south end, four students could study together if one student sits alone per each of the three counters behind the couch and a fourth student sits at the table by the wall.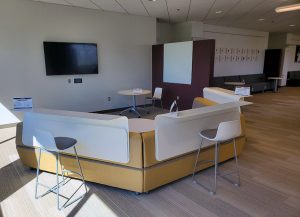 In the five study pods along the east windows, the square tables are 3 feet wide. Two students could study together if you push together two of these tables and sit on the far ends.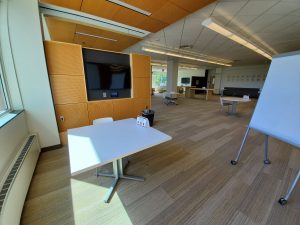 In 3 East, there are eight pods that each have 4-foot square tables. If you pull two tables together edge to edge, two people could sit at the far ends and be 8 feet apart.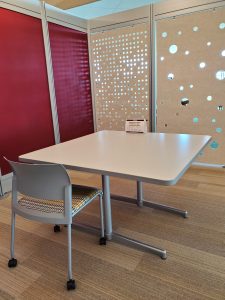 We hope to see you this fall (no closer than 6 feet!) and wish you a successful semester!