Welcome to fall 2019! From an academic perspective, you will be pretty busy this week getting to know your professors and understanding the magnitude of work for each of your courses. Whether this is your first semester at CMU, or you are a returning student, we hope you will take advantage of the services and resources available at CMU Libraries.
Last year, the three top ways CMU students used the library included downloading scholarly articles, accessing e-books, and visiting the Park Library. See Figure 1 below.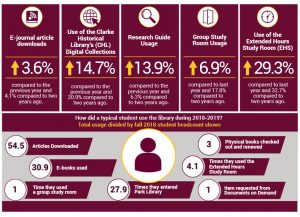 Although there is no such thing as a typical student, how does your past use of the library compare to the average? What needs will you have this semester that we can help you with?
• Do you have to write a research paper or give a presentation this semester? You can search the libraries' collections inside the Park Library or online anywhere, anytime. To get research help, use our Ask a Librarian service or schedule a meeting with a specific librarian face-to-face or online.
• Can't find the resources you need? Our Documents on Demand service will deliver articles and scans to your desktop anywhere in the world.
• Did you leave your laptop at home? Do you need to print a paper? The library provides more than 300 public computers loaded with the software you need and is the #1 printing location on campus.
• Do you have a group project this semester and need a place to work together where you can spread out and talk? The Park Library provides three group-friendly spaces including 20 group study rooms and two group collaboration spaces, the Copeland Suite on the 2nd floor and 3 East on the 3rd floor.
• Are you looking for a quiet place to concentrate where you can escape the noise and distractions of your residence hall or apartment? The quietest spaces in the Park Library are the 1st Floor Quiet Area and two spaces on the third floor, the Mary Dow Reading Room and individual study rooms.
• Do you prefer to study late at night? Use your CentralCard to access the library's 1 North Study Room, which is open 24 hours a day, five nights per week during the fall and spring semesters.
CMU Libraries is your library. Find your favorite study space. Get to know your subject librarian. We can answer your questions and provide access to resources and tools that help you achieve your goals. Have a great semester!