Ten of Our Favorite Online Resources You Might Not Know About
Here at the CMU Libraries, we work with thousands of electronic resources that bring information right to the screen in front of you – from A&A Case Reports* to Zygon and everything in between. A few of the CMU Libraries' faculty and staff have selected ten of them that we love – and that you might not know about.
*(Anesthesia and Analgesia)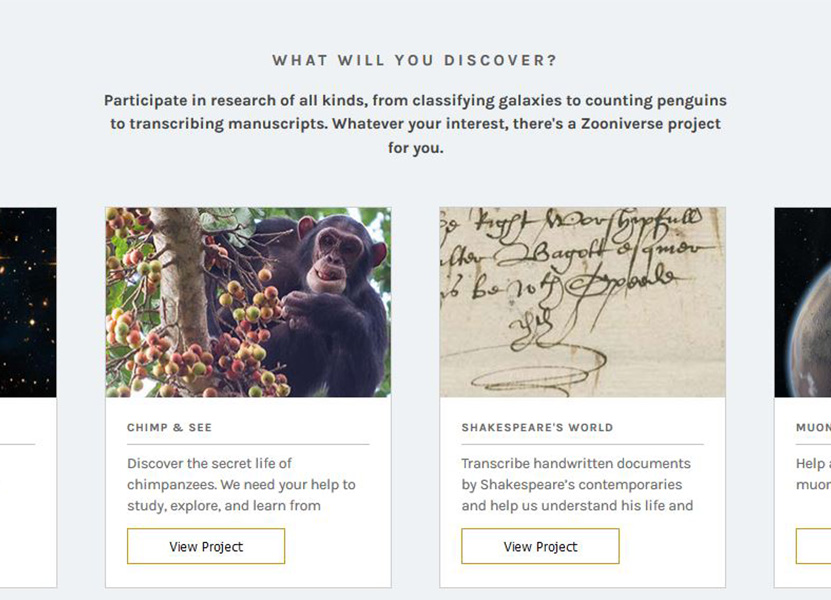 1. Zooniverse
You don't need to be a scientist to help advance our scientific understanding of the world. Zooniverse.org hosts a range of citizen science projects that allow anyone to make contributions to scientific research without even leaving the house. You can choose from a variety of projects focused on different scientific disciplines: ecology, medicine, astronomy, and more. Try your hand at identifying animals in photos taken by camera traps or examine images of the solar atmosphere to help scientists better understand solar storms. The training for each project only takes a few minutes and is both fun and rewarding.
–Caitlin Benallack, Instruction Librarian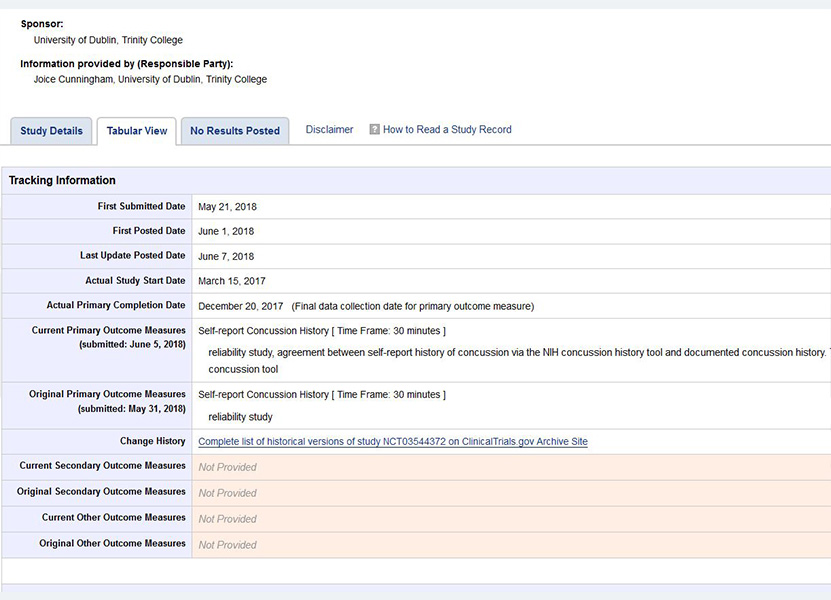 ClinicalTrials.gov
While a lot of medical research data is hidden behind a paywall, ClinicalTrials.gov has data from over 300,000 clinical trials from around the world. Provided by the US National Library of Medicine, the database lists not just completed trials, but also those that are still recruiting, and provides clinical data on hundreds of human conditions and diseases.
–Rebecca Renirie, Medical Librarian/Research and Instruction Librarian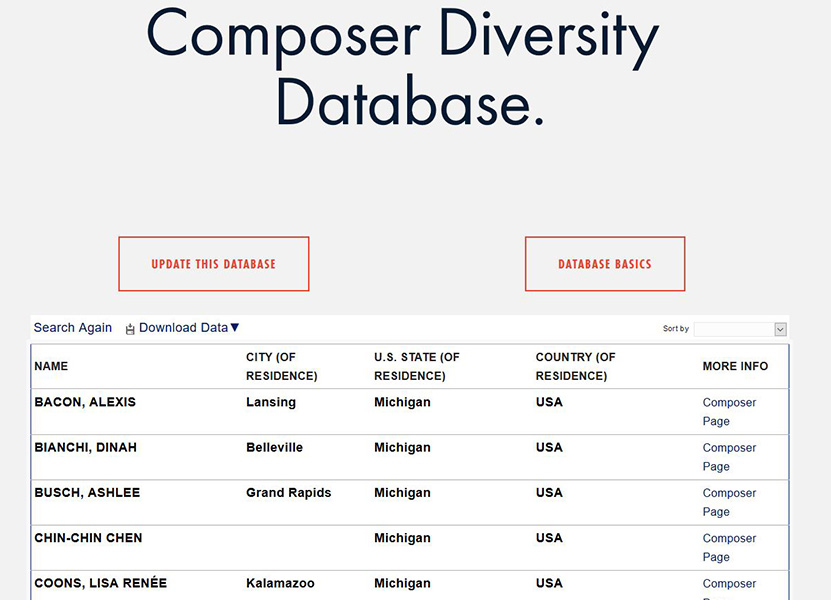 Composer Diversity Database

https://www.composerdiversity.com/
Even if you're not looking for music to program for a concert, those interested in discovering music by composers from historically underrepresented groups will be happy to learn about the Composer Diversity Database from the Institute of Composer Diversity. The simplest search allows you to find music based on three categories, including women/non-binary and living/deceased. With the more advanced search you can further refine your search by particular genres, demographics, and location. A useful resource for anyone interested in discovering and supporting the music of underrepresented composers.
–Laura Thompson, Research and Instruction Librarian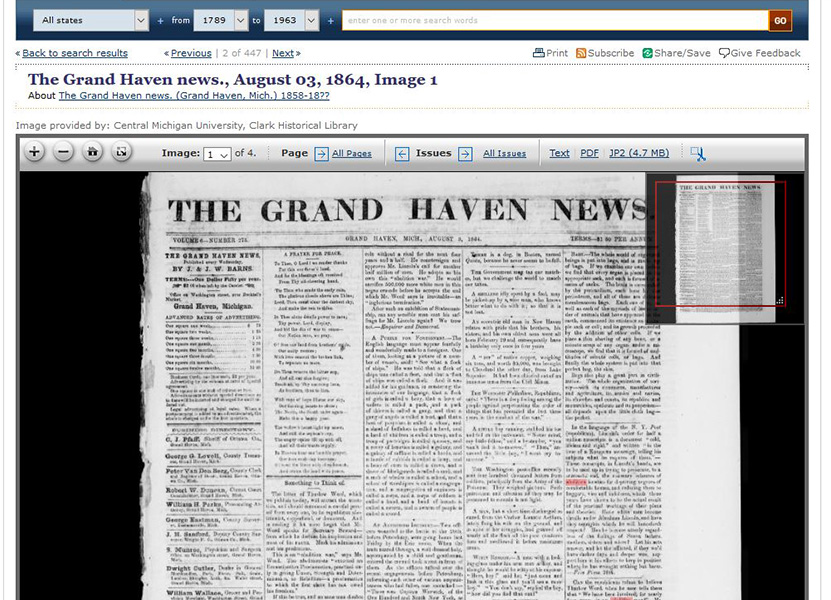 Chronicling America: Historic American Newspapers
https://chroniclingamerica.loc.gov/
Chronicling America, via the Library of Congress, provides digital access to over 13 million pages of articles published in hundreds of American newspapers from the late 18th through the mid-20th centuries. What I like most about this resource is the ability to use the drop-down menus of Ethnicities and Languages that appear under the tab entitled "All Digitized Newspapers 1789-1963." This offers access to newspapers that were published for specific indigenous and immigrant populations. Additionally, the ability to target newspaper articles by state and by date range allows users to focus on subjects or issues in very specific ways. For instance, a user wanting to find information on slaveholding in the South during the Civil War could limit a search to specific states within the Confederacy between the dates of 1861-1865 in order to better understand regional attitudes toward the institution of slavery at the height of that war. I highly recommend that you take some time to explore this fascinating and freely available historical resource—you will not be disappointed!
–Rob Faleer, Research and Instruction Librarian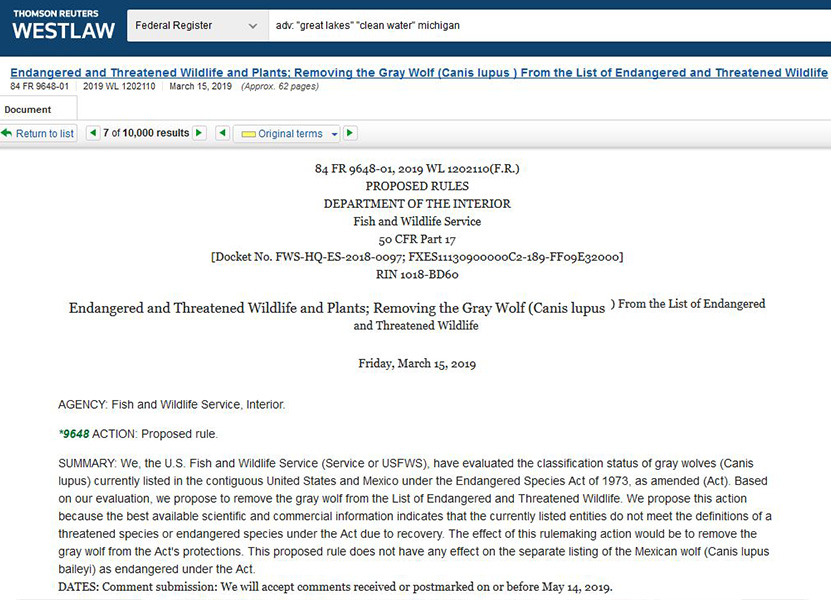 The Federal Register
https://www.federalregister.gov/documents/search?#
https://1.next.westlaw.com/Browse/Home/ProposedAdoptedRegulations/FederalRegister
Do you want to make an impact on the policies of the US Government? You can through the rulemaking process. We learn in school that Congress passes bills and Presidents enact those
laws, but we don't often learn about rulemaking – which is the process where government agencies propose how they will enforce and carry out laws, like the Endangered Species Act or net neutrality. The best part about rulemaking is that it is a public process and we, the citizenry, can comment on the rules to help shape the final outcome. Each rule is placed on the Federal Register and, during a specified comment period, it is open to the public for comment. Scientists, industry, stakeholders, and the public at large help shape the rule to be the best it can be. After revision, the final rule is entered into the Code of Federal Regulations.
If you want to get involved, you need to use the US Government's Federal Register page. And if you want some historical context to a particular rule, Westlaw's Federal Register contains all of the Federal rules going back to 1936.
–Bryan Whitledge, Archivist for University Digital Records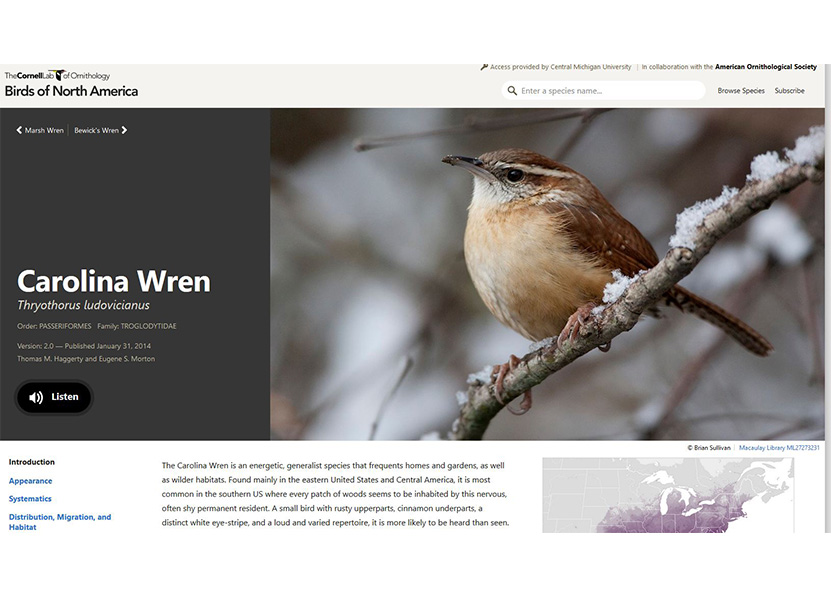 Birds of North America Online
http://cmich.idm.oclc.org/login?url=https://birdsna.org
If you love birdwatching, or have ever wondered who's making all the racket every morning at dawn, check out Birds of North America Online from the famous Cornell Lab of Ornithology. You can explore species by region and distribution over the course of the year, find breeding and migration ranges, and see high-resolution photos of birds in their native habitats. What sets this source apart is the wealth of videos and audio files uploaded to the site. Play the songs of your favorite birds all year long!
–Rebecca Renirie, Medical Librarian/Research and Instruction Librarian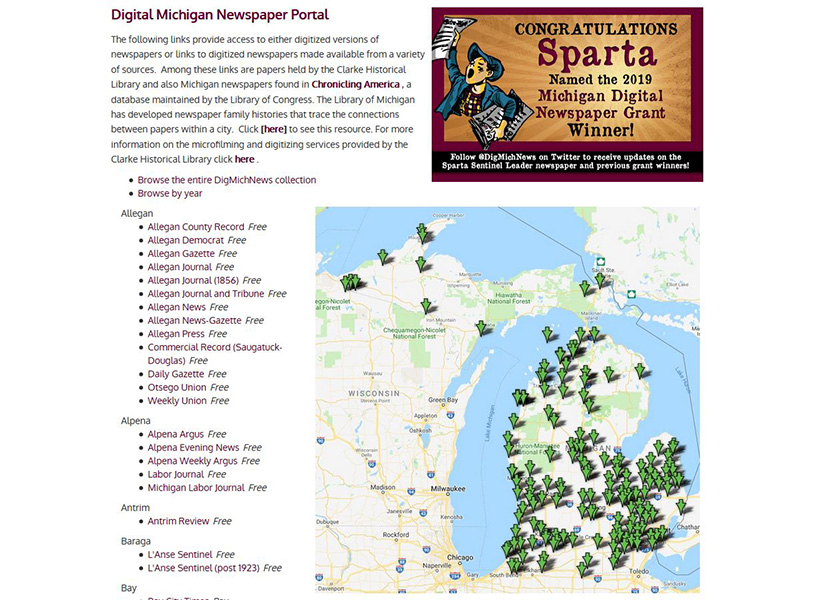 Digital Michigan Newspaper Portal
https://www.cmich.edu/library/clarke/Pages/Michigan-Digital-Newspaper-Portal.aspx
Would you like to read more about your hometown area in Michigan? Clarke Historical Library has put together this portal of Michigan newspapers, some of which are in the Clarke and some that are found in Chronicling America. Find out what life was like 100 years ago, or search for stories about your family. You can also correct the Optical Character Recognition (OCR) text that is generated by software that "reads" the newspaper – become a top text corrector!
–Susan Powers, Manager/Librarian Documents on Demand and Access Services
Citizen Archivist for the National Archives
https://www.archives.gov/citizen-archivist
If you love pouring over historical documents, you might enjoy working on one of the Citizen Archivist projects for the National Archives. Citizen Archivists transcribe and tag documents and images, making the National Archives collections more accessible and searchable. It is quick and easy to set up an account and then select a "mission" that focuses on a collection that interests you. Choose anything from tagging photos of the Tennessee Valley Authority activities in the early 20th century to transcribing Project Chariot files outlining a plan to create a harbor at Cape Thompson, Alaska using nuclear blasts.
–Caitlin Benallack, Instruction Librarian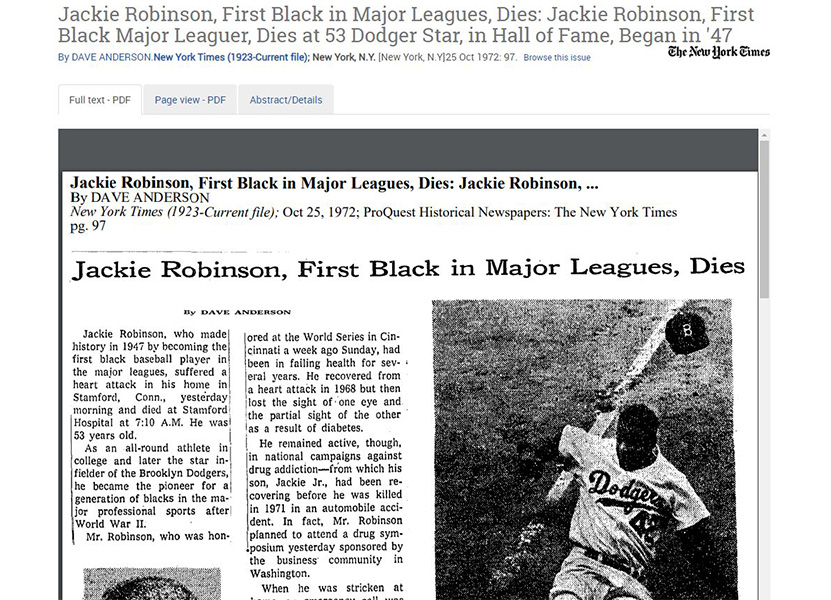 Historic New York Times
http://cmich.idm.oclc.org/login?url=http://search.proquest.com/hnpnewyorktimes/advanced?accountid=10181
The New York Times database is well worth plumbing. Although its audience has always skewed toward the high end of the economic scale, the Times remains the nation's "newspaper of record." Its obituaries have always been distinctive and comprehensive. Its coverage remains hard to top in terms of thoroughness and resources. The Times' formalized style of writing may be off-putting to some, but it's part of the personality that makes the paper worth reading every day.
–Ed Bradley, Managing Editor, Michigan Historical Review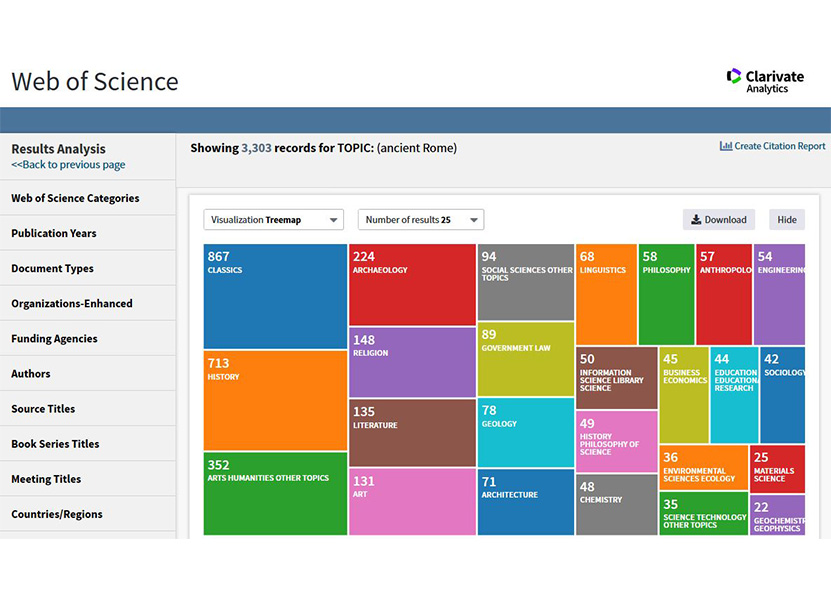 Web of Science
http://cmich.idm.oclc.org/login?url=http://webofknowledge.com/wos
A premier database for the sciences, this resource is invaluable to those looking for scholarly articles to support their research. Available to CMU students, staff, and faculty, it not only has access to articles from core research journals in the sciences, social sciences, and humanities, but also provides a number of tools to help you analyze the impact of that research in a given field. A key go-to resource for any discipline!
–Rebecca Renirie, Medical Librarian/Research and Instruction Librarian