On January 12, the latest installation in the Park Library's Third Floor Exhibit Area opened. Grace Smolinski, a CMU junior majoring in Graphic Design and an employee in the Clarke Historical Library, has coordinated an effort with her fellow students to curate this exhibition, entitled, FEAR. You can view FEAR during hours when the Park Library is open until February 12.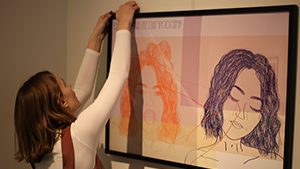 The day before Grace and her peers installed the show, we asked her a few questions about the exhibition and her experience bringing it together.
BW: So you are the curator of this exhibition – how did you come up with the idea of working on it and how many people have contributed to it?
GS: I wouldn't say I was the curator, because I didn't really choose the pieces. It is a group effort and I coordinated all of us. I'm part of a graphic design student organization at CMU called Design Hub and I brought up this opportunity to put together an exhibition at one of our meetings. We brainstormed some ideas and came up with fear as a common theme that all of us could work with.
BW: As the coordinator, how long have you worked on this exhibition?
GS: We started in November with brainstorming and coming up with a theme. In December, I worked a lot with Janet Danek, the Libraries' Exhibits and Projects Coordinator, in planning and I created the PR materials and social media graphics. After finals last semester, I started creating my work. We've been working hard over the last few months and we're excited to see our work up on the walls.
BW: You mentioned working with Janet – what did that entail?
GS: Working with Janet was great. She was easy to stay in contact with and very accommodating with my schedule. She gave me a tour of the space and guidance on plaques and mounting and she gave me other information about making an exhibition come together. We had a limited time to install due to the seniors being in class until 2:00 pm on Friday. Janet was very accommodating of our schedules and she made arrangements for one of her student assistants to help us.
BW: Why did you want to coordinate an exhibit in the Third Floor space?
GS: Obviously, it is a good resume builder and a chance to show off our work. It is also an extra-curricular activity that adds to what we learn in the program. We have other opportunities on campus to learn outside of the program, such as artist talks and workshops, but they are all guided by professors in the program or professionals in the field. This exhibition is something we as students got to conduct on our own, presenting an opportunity to test the waters in our future field of work.
Outside of a few other annual student shows here on campus, it can be really difficult for student artists to find places to put their work on display. When I heard the space was available, I thought it could be a great opportunity to get others in the program involved. As I've progressed through the art program, I've learned the importance of getting involved in outside-of-class projects and saw the space as an opportunity to do something new and creative, but also something beneficial to my future.
BW: Regarding the exhibition, what is your take on the theme, "fear"?
GS: I decided to focus my piece on mental illness – specifically bipolar disorder. As someone who has bipolar disorder, I've found art to be a healthy way to express my emotions and work out issues that I might otherwise internalize. Someone with bipolar disorder may struggle to know what emotion they will feel next and can sometimes feel like an entirely different person from moment to moment. I wanted to bring this fear to light in hopes of helping people who don't live with a mental illness understand the brain and thought processes of someone who does. I think it's important to reduce the stigma around mental illness in order to open the conversation about it.
Other examples of fears that we explore in the exhibition are the fear of exhausting the Earth's resources, the fear of being hurt by others, the fear of today's political climate, and more. Overall, we are all expressing our own fears. And because fear is meaningful to most people – we all have fears – the examples we have created might be relatable to many.
BW: You are a junior, would you coordinate another exhibition in the Library in the future?
GS: I think it could be a really cool opportunity for Design Hub to make this an annual event. It's great experience to go through the process of installing an exhibition from start to finish. I'm excited to see what will be in Design Hub's future as the graphic design program continues to grow.
As for myself, I really enjoyed coordinating the exhibition and would definitely do it again. Although, next time, I think I would plan it even further ahead of time. It was definitely stressful trying to get stuff done for the exhibition during exam week of fall 2018 and syllabus week of spring 2019. I would say that I'm pretty glad that we're almost to installation day.
BW: Finally, do you have anything else we should know about the show or your experience working with the Libraries to put this exhibition on?
GS: I hope people who see the show walk away with the reminder that everyone has fears, even if they won't admit them, and that it's okay to be afraid or unsure. There are big fears and small fears, but none are irrelevant. It's important to find a commonality between each other as humans and we hope that people can relate to our fears in some way.
I also think it's important to highlight the amount of work that each of the participants put in. Many hours were spent in the studio or in the computer lab during the months leading up to the installation and we couldn't be more excited to show off our pieces.
BW: Thanks, Grace. Good luck with the show.
GS: Thanks.