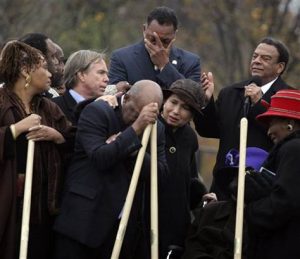 "America has given the Negro people a bad check, a check which has come back marked 'insufficient funds.'
But we refuse to believe that the bank of justice is bankrupt. We refuse to believe that there are insufficient funds in the great vaults of opportunity of this nation. And so, we've come to cash this check, a check that will give us upon demand the riches of freedom and the security of justice." – the Rev. Dr. Martin Luther King, Jr.
This portion of Dr. King's famed oration forever known as the "I have a dream speech" is frequently overlooked. My guess is that it's difficult to use this portion to justify the continued practice of ignoring institutionalized racism and other forms of social injustice. It is much easier to use other portions, while at the same time ignoring both the content of character and skin color when it comes to ensuring the balance of inclusion in every aspect of the American infrastructure.
This call to action for steps that move our culture beyond mere integration and toward inclusion and equity that ensures diversity without hostility is what will make good on the metaphorical bounced check to Black, Indigenous and People of Color. In essence, equity and inclusion come at a cost. Belief that a socially equitable and just society can pay unimaginable dividends to all citizens requires trust when all we've seen are the losses, penalties for allies who push too hard, and misapplied accusations of political correctness.
I'm reminded of a story about some fishermen who have become weary after fishing for days without catching anything. Fishing was their livelihood and it wasn't very lively! Discouraged and disappointed, the men had become hopeless. Then, they were encouraged by an observer to go deeper into the water toward the promise of a greater catch. The pair of fishermen learned this to be true. Ultimately, they were pleased with their success after trusting the call to go deeper.
Sometimes, we miss the opportunity to be successful in our work towards a more equitable and just society because we lack the courage to go deeper into the waters of life. Right now, we are individually being challenged to go deeper in our engagement with, understanding of, and empathy for others. Whether we are thinking of racial relations, economic stability, environmental justice, or the highly contagious coronavirus: it matters that we make moves to go deeper because failure to do so can lead to a greater cost than what is feared.
Over the course of the academic year, the Diversity unit will host events and trainings designed to help us take a look at the State of Our Campus Culture and row towards deeper waters. As an educator who has spent time in the classroom, I have empathy for those who are being challenged to deliver educational content in ways that match the public health needs of our current times. Likewise, the overall state of the culture as it pertains to social justice, numerous inequities, and a simmering pot of hateful rhetoric is challenging us to go deeper in the effort to better understand the lived experiences of our fellow citizens. We can do both.
Photo: Rev. Jesse Jackson, top center, Rep. John Lewis, D-Ga., leaning on shovel, becoming emotional as Amb. Andrew Young, top right, speaks about the significance of the late Dr. Martin Luther King Jr., during the breaking ground for the Martin Luther King Memorial on the National Mall in Washington in 2006. Photo credit: Lauren Victoria Burke, AP