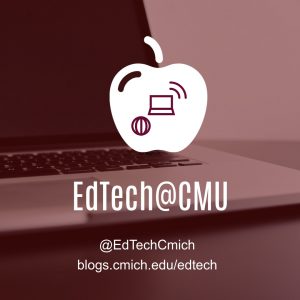 Welcome to EdTech@CMU, a site maintained by faculty affiliated with Central Michigan University's Master of Arts in Educational Technology and Doctorate in Educational Technology.
Here, we will provide program updates, links to resources related to educational technology, and other information from and for students, alumni, and faculty.
Over time, our goal is to create an sustained dialogue about ed tech that enriches — and is enriched by — a scholarly perspective on the topics of the day.
Please join us here on the blog, via Twitter (@EdTechCmich) and on Facebook.
Last, but not least, the disclaimer: this website and affiliated content has been created/curated by students and faculty, but the opinions expressed are the author's/authors' own and do not reflect the view of Central Michigan University.